You have probably seen stock footage thousands of times in your life and never really paid any attention to it. When stock footage is used well, that's exactly the point. If you aren't familiar with the concept of stock footage, it is basically a library of recorded footage of common subjects used in videos. This could be shots of cityscapes, parks, animals, basically anything you can think of, there is probably some stock footage of it available.
For example, do you need a shot of Santa Claus winking at the camera in front of a green screen? Of course you do.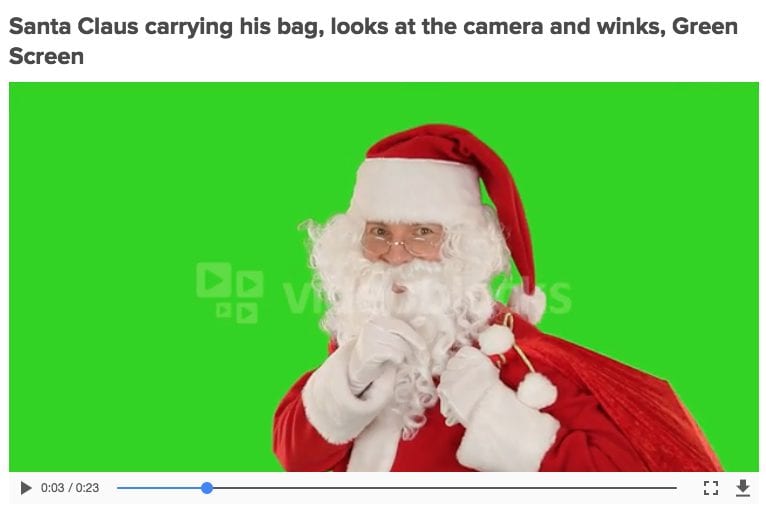 However, there are right ways and wrong ways to use stock footage. When used poorly, it can look jarring and distracting, but when used well, it can blend seamlessly into your video and save you a lot of time and money.
Save Some Time
A common use of stock footage is to establish a location. Say your video takes place in Melbourne, and you want to show a shot to really show it off. You could spend the day location scouting, getting permits for drone use, or spend half your shooting time on a shot that will last two seconds in your video.
Or you could focus your attention on the more important content of the video and use on of the plethora of stock footage options available, often filmed by experienced cinematographers and videographers in Melbourne.
Save Some Money

As with many things in life, you get what you pay for. If you want a 4K helicopter shot from the city above, you'll be looking at around $200 from a reputable site like Shutterstock.com. An HD clip will be considerably less at around $80, and so on for smaller resolution files for things like social media videos where resolution doesn't matter quite as much. However this can be a small price to pay when compared to actually going out yourself and shooting it.

How to use Stock Footage
If you've identified that your video could use a bit of extra B-roll or some footage that is a bit out of your reach, like a shot of the Golden Gate Bridge for example, you should check through the most popular stock footage sites for a shot that will blend in seamlessly with your video in terms of resolution and style. You will be able to adjust colour temperature and grading slightly once you have the footage. Need a shot of a plane flying overhead? Don't drive down to the airport when you can get a perfectly good alternative within minutes from a stock footage site.
The most common places to download stock footage are Shutterstock, iStock and Getty images. These sites run on a per clip payment method, where you just pay for the clip you want and you get a license to use it for your purposes. You should also make sure that the license matches what you plan to use the footage for. Other sites, like Storyblocks use a subscription based download method, where you pay a flat rate yearly and get access to their library of footage for unlimited use. The selection may be more limited than the bigger sites like Shutterstock, but if you are planning on using a large number of stock shots, a subscription could save you a lot of money in the long run.
Conclusion
When used with a discerning eye and a thorough search, stock footage can save you thousands and add some production value to your videos. Used poorly it can make your video look like a late night infomercial. So you should only reach for the stock footage when it's impractical to shoot it yourself, and remember to use sparingly. If you are looking to create a corporate video with high production values, get in touch with Dream Engine today.
Ryan Spanger is one of Melbourne's most respected and sought-after video production professionals. Ryan founded Dream Engine in 2002, and specialises in helping medium to large corporates, government departments, and the non-profit sector to connect with their audience more effectively by using video.